PopCap Collection Time Unlimited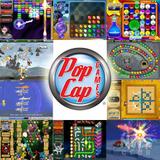 You've probably seen many posts about PopCap games.
What has this post differently?
1. 42 full PopCap games.
Includes zuma deluxe, bejeweled 2 deluxe, etc. (Sorry but I'm not too lazy to write all the names).
2. All the games are time unlimited.
3. The installation is very easy. It installs all the games in a single, uninterrupted installation, and are cracked.
I made the installer by myself. I upload the files. It is not a post stolen from another forum.
In short, you have neither to install games one by one, nor put a crack one by one.
All of them are installed and cracked and ready to play without time limit, with one access for each one.
System requirements:
Windows 2000/XP/Vista
Memoria: 256 MB RAM
Procesador: 700 MHz or faster
DirectX: 8.0
Downloads:
http://www.megaupload.com/?d=I7V7U6VM




http://www.megaupload.com/?d=4VXYFWMN




http://www.megaupload.com/?d=6QJWVHE0




http://www.megaupload.com/?d=GSIU8KA0




http://www.megaupload.com/?d=JUSCRELJ




http://www.megaupload.com/?d=ZJ0TCT5C




http://www.megaupload.com/?d=3G703OGJ